Country Fire Service
Make a difference in your community
become a volunteer firefighter at Cherry Gardens CFS Brigade
Becoming a member of the CFS gives you the opportunity to challenge yourself by learning new skills and along the way work and train with a great group of people. The brigade trains on Monday nights from 7:30pm to 9:30pm - Come & try.
Any questions, please email David at dmartin@internode.on.net
Did you know the Cherry Gardens CFS has its own Facebook page? You can find out what we have been up to plus stay informed on the latest local fire, weather and incident warnings – Cherry Gardens Country Fire Service @CherryGardensCFS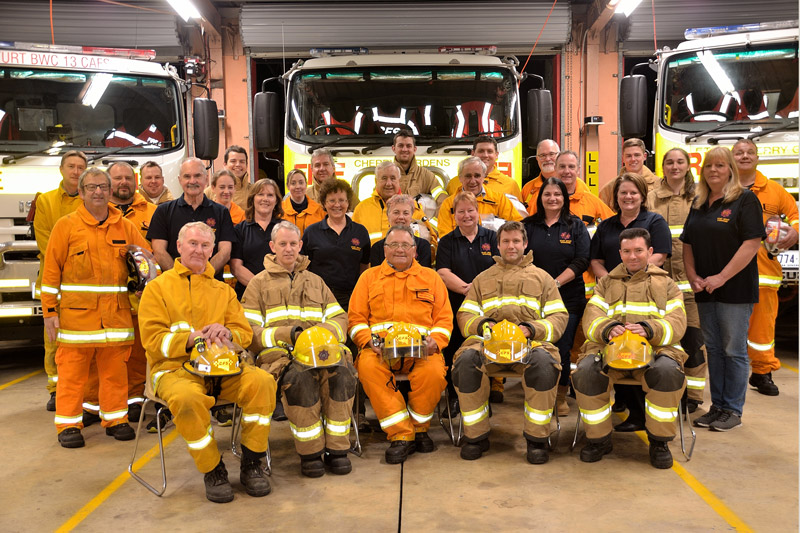 Cherry Gardens CFS brigade
Becoming a member of the CFS gives you the opportunity to challenge yourself by learning new skills and along the way work and train with a great group of people.
When you join the CFS, you will need to commit time to regular training and once you have completed a basic training course, the training possibilities are endless. Once trained, you will help people and the community in ways you never thought possible.
Some commonly asked questions about joining the CFS
What does it cost?
Nothing – protective clothing and all training costs are covered by the CFS. Food is supplied for any lengthy call outs.
Do I receive payment?
No, you are a volunteer.
Do I have to attend every incident?
Not at all. Call outs are crewed by members who are available at that particular time. We understand people also have lives to lead!
Will I have to attend every training night?
Ideally yes, but apologies are OK.
Am I too Old/Young?
No- come and see us!
Is fire fighting all you do?
No, it is perhaps the most visible of what we do, but we assist with many other tasks:
• road crash rescue
• storm/flood damage
• carry out searches
• traffic control to name a few.
Within the Cherry Gardens Brigade we also have:
• an Operational Support team who handle radio communication and liaison with other agencies, and
• an Airstrip Support group to handle water bomber aircraft.
A big thank you to those who donate their cans and bottles to the Cherry Gardens CFS. This is a major source of income for us, and it helps when we need to fund improvements to our equipment or facilities. Your support is very much appreciated!
PREPARE - ACT - SURVIVE
Information on how to stay safe, and how to minimise fire impact on your property is available from the CFS website http://www.cfs.sa.gov.au and from your local CFS Brigade.
Bushfire Information Hot-line (Fire danger season only): 1300 362 361
Bushfire Information http://www.cfs.sa.gov.au
Bushfire Warnings & Information radio broadcasts
ABC 891 (AM band)
5AA 1395 (AM band)
CFS Region 1 (Mt Lofty Ranges, Mt. Barker): 8391 1866
CFS HQ (Adelaide): 8463 4200
Burning Permits & Fire Prevention Officers
Onkaparinga: 8384 0730
Adelaide Hills: 8408 0400
For all emergencies call 000